Zebra® Print Engines
Zebra's print and apply print engines are designed for use in a variety of high-volume, mission-critical applications. These print engines are typically integrated by Zebra partners into a complete print and apply system to label products, pallets, cases and cartons quickly and easily, with great reliability.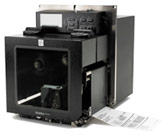 ZE500 Print Engines

The next generation of Zebra print engines designed for easy integration, maintenance and operation.
USED FOR: Cross Docking, Receiving Shipping, Compliance Labeling, Order Labeling